Smarthome Online Product Feature
* MT2601 CPU & Android Wear OS
Dual core intelligent chip, gives the watch phone more excellent performance, perfectly compatible with Android and iOS dual systems.
When using a sports app and recording motion trails or using Google Maps, it will use the built-in GPS.
* 4GB ROM, 512MB RAM, 300mAh battery
It has large memory space, 4G ROM, 512M RAM for you to use; 300mAh battery is also convenient for your using.
Using 1.4 inch AMOLED round screen with HD 400 * 400 px resolution at 287 DPI, with OLED display, which further exaggerate it's quality and beauty.
Call (only for Android), Message, Pair Bluetooth to listen to music.
Heart Rate Monitor, Pedometer. Take good care of you, monitor your heart rate, record your sports data.
Call Uber;"OK Google" hotword;Tilt to wake screen, drop to dim the screen; SMS reply with voice.
Heart-rate monitor, Proximity sensor, Accelerometer, Gyroscope, e-Compass.
Support third-party apps.
Smarthome Online Product Photos
Powered by Android Wear™. Compatible with Android™ and iOS.
Besides managing calls and messages, Ticwatch S (Sport) and E (Express) empower your active lifestyle with 
the convenience of Google Assistant, fitness apps like Google Fit, and the powerful ecosystem of Google Play. 
Google Play brings you apps that enable sleep monitoring, music detection, multi-language support, 
and much more. The possibilities are endless with your Ticwatch E
Notifications on your wrist | Music on the go | An improved built in GPS | New Heart rate monitor | IP67 Water and dust Resistance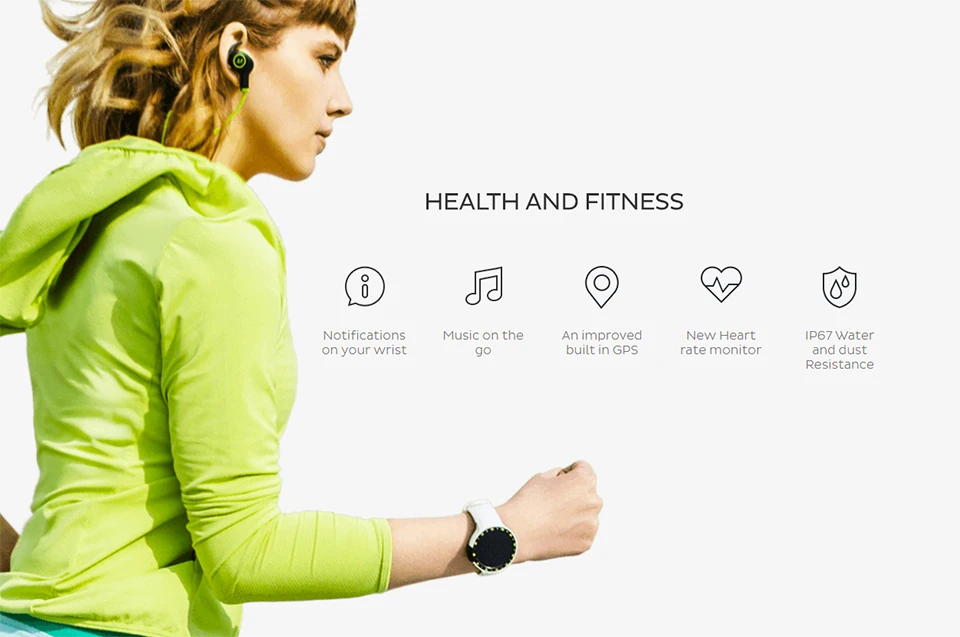 MORE FREEDOM AND MOBILITY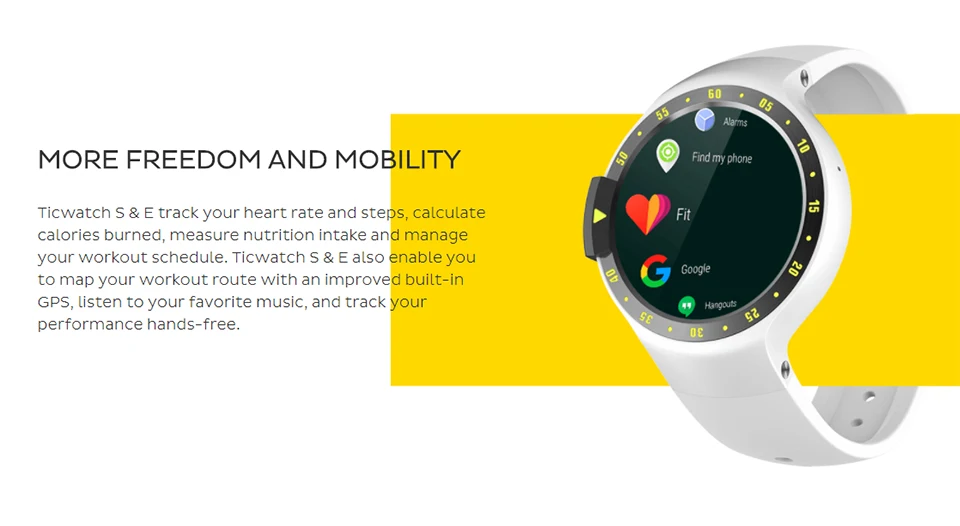 Ticwatch S & E track your heart rate and steps, calculate calories burned, measure nutrition intake and manage
your workout schedule. Ticwatch S & E also enable you to map your workout route with an improved
built-in GPS, listen to your favorite music, and track your performance hands-free.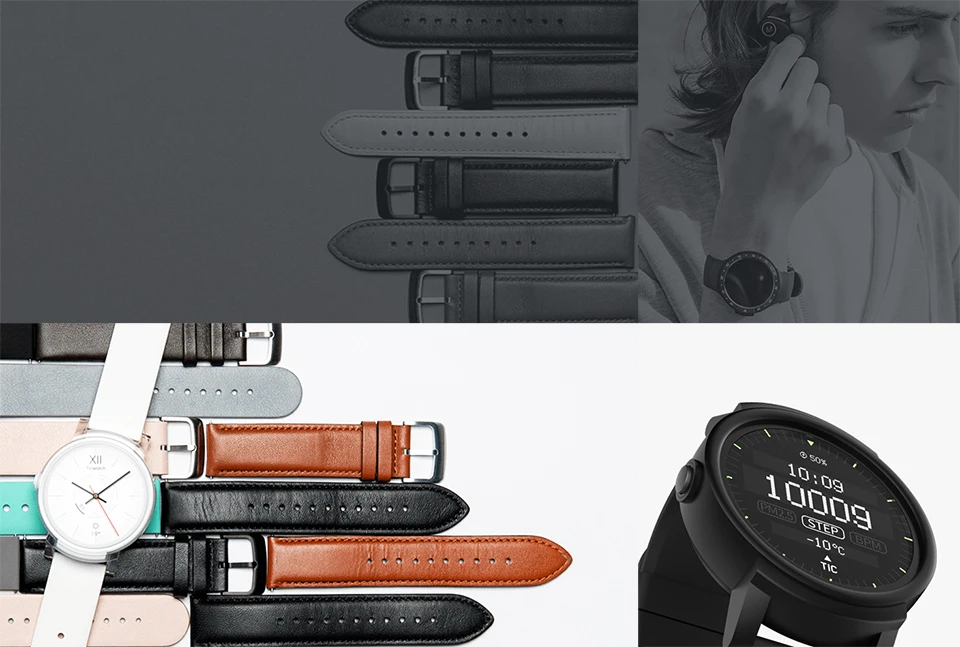 Watch-faces designed for Ticwatch E exclusively
Ticwatch E (Express), The Good Design Award Winner
Watch-faces designed exclusively for Ticwatch E
Smarthome Online Real Photos
Smarthome Online Product Description
Hardware

CPU: MTK2601, Dual Core, 1.2GHz

External Memory: Not Supported

Connectivity

Connection type: Bluetooth, WiFi

Bluetooth version: Bluetooth V4.1/BLE

SIM Card Slot: Not Support

Display

Screen type: 1.4 inch Amoled round screen

Screen resolution: 400*400 pixels

APP/APK

App Language: Chinese, English

Smartwatch Language: English

Media Formats

Picture format: GIF,JPEG,PNG

Battery

TiCharge(trademark wireless charge technology) enabled

Weight and Size

Package Contents

1 x Charging Cable 
1. What languages does the watch support?
Ticwatch E can support many languages like English/German/French/Japanese/Traditional Chinese, but the system languages are English and German.
2. What kind of GPS are supported?
Glonass+GPS+Beidou, Agps supported.
3. How far away can the watch go from the phone?
10 meters in open area.The depends your cellphone Bluetooth performance and actual surroundings.
4. How long does it take to fully charge the watch?
It will be fully charged in 70 minutes by original charger.
5. Whether can I use third party charger? Why?
From the safety perspective, it is not suggested to use third-party charger. 
6. Can music services on AW play over headphones connected to the watch?
After pairing with the phone, Ticwatc E can pair to Bluetooth headphones to listen music.
7. What health Activities does the Application Application Support?
Run / Walk / Cycling / Free Style etc. Any styles on third party apps.
8. Whether the watch support wechat/whatsapp/fb messenger?
Android Wear doesn't support wechat/whatsapp/fb messenger on iOS. It supports fb messenger on Android devices, not supporting whatsapp. For wechat supporting, you need to install wechat app on your phone firstly.
9. Does it support third party music apps? 
It supports major music apps,like Google music and Spotify, etc.
10. Does it support third party fitness apps?Can I share my fitness data to these apps?
It supports major fitness apps,such as Google fit, Strava, Runkeeper.
11. Does the watch have google map? Can I use it for navigation?
Yes, of course. It support google maps and other map apps.
12. Does the watch support offline music play? Can I download songs on the watch? In what format?
You can download music through third party apps. And the watch will play Mp3 and AAC format music with Compatible Wireless headset connected.
13. Can I check photos/emails/videos on the watch?
You can check emails/pictures and videos on the watch through third party apps.
14. Does the watch support to make phone call and pick up phone call?
Android phone can pick up and make phone calls.iOS doesn't support.
15. Does it support keyboard?
Android Wear supports handwriting and keyboard for Android phone.
16. Can I reply text message via voice commend?
Do not support iMessages, but AW 2.0 standalone store empowers many messaging apps(Facebook Messager, Whatsapp, Telegrams,etc) You can barely miss a message from your phone. 
17. Can I control music play through the watch?
Yes, both iOS and Android can control music through the watch.